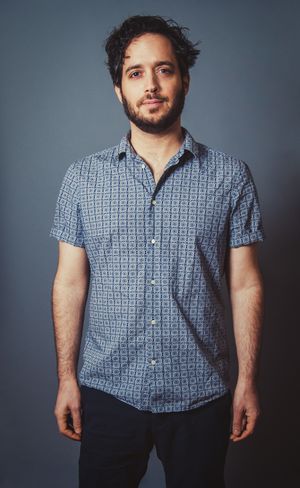 "Silberstein is the latest monster guitarist on the scene" 
-Rochester City Newspaper, February 2017
"Yotam Silberstein improvises in a cutting tone and writes heady original tunes that seem to tug the straight-ahead jazz tradition in new directions."
-New York Times, February 2017
"Since his arrival in New York in 2005, Israeli guitarist Yotam Silberstein has made an impact on the scene with his precision bebob lines and fleet-fingered improvisations"
-Jazz Times, January 2012
• Currently has over 21,000 followers on Facebook, and 25,800 followers on Instagram
Yotam Silberstein is a major force in jazz guitar, a player who "improvises in a cutting tone and writes heady original tunes that seem to tug the straight-ahead jazz tradition in new directions" (New York Times). His deep study of music from South America, North Africa and the Middle East has given his music a global thrust — the great bassist John Patitucci has hailed him as "an encyclopedia of Brazilian music." In addition to his acclaimed work as a leader on the albums Future Memories, The Village, Brasil, Resonance, Next Page and The Arrival, he has distinguished himself as a sideman on recordings by Patitucci (Irmãos de Fé), Monty Alexander (Harlem-Kingston Express Live!, a Grammy nominee), David Sanborn & Marcus Miller, the late Nathan Davis and more.
After gaining experience and recognition at a young age in his native Israel, Silberstein relocated to New York in 2005 to attend the New School of Jazz and Contemporary Music. He was a finalist the same year in the Thelonious Monk International Guitar Competition and became a sought-after figure on the New York scene, building close connections with the major talents he'd soon enlist for his varied projects: Christian McBride, Sam Yahel, Chris Cheek, Aaron Goldberg, Gregory Hutchinson, Reuben Rogers, Eric Harland and more.
Yotam was discovered by the great James Moody during a workshop and invited to play with the bebop master, who used to tell the then 25-year-old guitarist — a very high compliment — that he sounds "like an old man." Through that relationship, Silberstein came to play with the Dizzy Gillespie All-Stars, the Heath Brothers, George Coleman, Paquito D'Rivera, Roy Hargrove and others. He has also had the honor of working with the Brazilian masters Ivan Lins and Toninho Horta. In addition, he was chosen in 2012 to participate in the Sundance Institute Labs and received the Sundance Institute/Time Warner Foundation Fellowship for his film scoring work.
Silberstein possesses a mature and deeply melodic compositional gift and a seasoned interpretive finesse, bridging the worlds of jazz and blues and the music of Brazil, Argentina, Venezuela, Uruguay, Israel and the Arab world, always broadening and refining his own unique voice. From choro and samba to flamenco to bebop, playing both acoustic and electric instruments, Silberstein has performed for loving audiences across Europe, South America and Asia, frequently with his quartet. His duo project with Argentine multi-instrumentalist and composer Carlos "Negro" Aguirre, after two years of touring, will be documented in a forthcoming 2019 release.