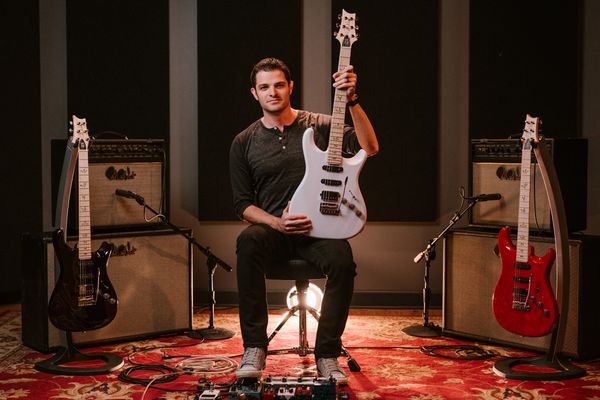 Photo Cred: Hunter Selman
"A very bright star is emerging in the guitar world and that star is Mark Lettieri… Mark's contributions to music are with groundbreaking, genre-bending innovative groups that are finding large audiences…"
- Cover of Jazz Guitar Today
"Now up for his first GRAMMY nomination as a solo artist, this rhythm guitarist has honed his craft to the point where experimentation and creativity have lent to one of the most extraordinary records to date."
- Daily Rind
"Mark Lettieri, though a young cat, is of a dying breed, a gent whose playing is difficult to pigeonhole, though it shows antecedents in the less known work of some great players...cats like Larry Carlton and Lee Ritenour, also session men and soloists whose least lauded work is their best. Those guys can fuse rock, jazz, and prog like no one's business when they've a mind to, but Lettieri does so with even greater freedom and fluidity."
- M.S. Tucker, FAME Reviews
 
"Anyone who hasn't heard of Texas-based guitarist Mark Lettieri will wonder why upon listening to his debut CD, Knows. A seasoned and versatile session player, Lettieri grew up in California listening to the wide range of iconic bands that emerged from the state during the 1970s, from Steely Dan to Van Halen. Now based in the same Dallas/Fort Worth area that produced Jimmie and Stevie Ray Vaughan, the guitarist fuses all of those influences and beyond into his own unique synthesis."
- Bill Meredith, Abstract Logix
 
"It's a trio-quartet setting and a platform for Lettieri's good sense and interesting written launching pads.  It's beyond cliche and it shows you what he's got, which is some chops but a musical mind that works in ways that make the music worth hearing. It's not technically astute fireworks in the end. It's music. Here's a cat that's got something really nice going!"
- Gapplegate Guitar and Bass Blog

"You can pick out a lot of influences on this guitar man's second jazz rocker but what it all comes down to is someone getting his Zappa on. Playing from the heart, this isn't rip off, tribute or homage, it's just a cat that wants to shut up and play his guitar before it wants to kill your momma."
- Chris Spector, Midwest Record
"Guitarist Mark Lettieri Adds Bite to Snarky Puppy's Funky Bark."
- Interview with Scott "DR GX" Goldfine, FUNKNSTUFF.NET
"An impeccable built do-it-all S-style that gets the most out of its HSS pickup configuration via a most-imaginative control circuit, Mark Lettieri's signature Fiori sees PRS chalk up bolt-on triumph."
- Review of Mark's Signature PRS Guitar, MusicRadar
0:00/5:08

0:00/5:16

0:00/5:15
• Currently has over 186,000 followers on Instagram, with video posts receiving 40,000+ views on average
• 2021 Album "Deep: The Baritone Sessions, Vol. 2" 2022 Grammy nomination for Best Contemporary Instrumental Album
• 2020 Grammy win for Best Contemporary Instrumental Album for the album Live At Royal Albert Hall, as a member of Snarky Puppy
• 2019 Album "Deep: The Baritone Sessions" Debuted on Billboard Magazine's Jazz Album chart at #21
• 2017 Grammy win for Best Contemporary Instrumental Album for the album Culcha Vulcha, as a member of Snarky Puppy
• 2016 Grammy win for Best Contemporary Instrumental Album for the album Sylva, as a member of Snarky Puppy
• 2014 Grammy Award Winner for Best R&B Performance (Snarky Puppy with Lalah Hathaway)

Mark Lettieri is a guitarist, composer, and producer based in Fort Worth, TX. Proficient in a multitude of styles, he records and performs in virtually every genre of popular music with both independent and major label artists. He also composes and produces original instrumental music under his own name.
Born in the San Francisco Bay Area, Lettieri came to Texas via Texas Christian University (TCU), studying advertising and public relations, and competing in track and field. A passionate guitarist since middle school, he began his music career in the Dallas/Fort Worth Metroplex area upon graduating from TCU.
Playing in the vibrant Metroplex gospel and R&B scene led Lettieri to join jazz / world group Snarky Puppy in 2008, where he contributes as guitarist, as well as arranger and composer. The group has earned three GRAMMY Awards: Best R&B Performance for "Something" feat. Lalah Hathaway in 2014, and twice for Best Contemporary Instrumental Album (Sylva in 2016, and Culcha Vulcha in 2017). Snarky Puppy tours constantly, having performed on every continent except Antarctica.
Outside of Snarky Puppy, Lettieri has released six albums as a leader: Knows (2011), Futurefun (2013), Spark and Echo (2016, #2 on iTunes Jazz and #11 on Billboard Jazz) Deep: The Baritone Sessions  (2019, #21 on Billboard Jazz), Things of That Nature (2019, #1 on iTunes Jazz), and most recently, Deep: The Baritone Sessions, Vol. 2 (2021, #2 on iTunes Jazz) that is nominated for a Grammy in the Best Contemporary Instrumental Album category. Due in large part to Lettieri's vibrant social media presence, these records have created a sizable buzz among fans of instrumental music worldwide. He performs this music live in a quartet format as the Mark Lettieri Group.
In 2018, Lettieri joined up with Vulpeck-produced group The Fearless Flyers, featuring Cory Wong and Joe Dart of Vulfpeck on guitar and bass respectively, and drummer Nate Smith (Chris Potter, Pat Metheny). The quartet has four releases to date: The Fearless Flyers (2018), The Fearless Flyers II (2019), Tailwinds (2020), and Live at Madison Square Garden (2021).
As an in demand session guitarist and touring sideman, Lettieri has logged miles with neo soul icon Erykah Badu, gospel singer Anthony Evans, and American Idol: Season 11 winner Phillip Phillips. He's also performed with a myriad of other artists, including Nelly, Anthony Evans, Chrisette Michele, Myron Butler, N'dambi, Bilal, and even comedians Dave Chappelle and Harry Shearer.
Session recording work includes artists such as David Crosby, Kirk Franklin, The Jacksons, Fred Hammond, Tori Kelly, 50 Cent, Ledisi, Tamela Mann, Eric Roberson, Lecrae, Lupe Fiasco, Keyshia Cole, and Xzibit.
Lettieri recently teamed up with Paul Reed Smith Guitars to create his signature model electric guitar, the Fiore, released during Winter NAMM 2021. He serves as a demonstrator and clinician on behalf of PRS and other endorsing brands.
He resides with his wife, daughter, and two cats.